Aves
Through years of intensive contact with bird breeders, zoos and scientific institutions, Avesproduct is able to provide versatile, practical and objective information. Aves products have been used with great success since 1976, thanks to good service and professional guidance.
Aves Psitta Start
Upgrading of the seed mixture to a complete psittacine rearing diet
soaked seeds in PSITTA-START are better and easier to digest than hard unsoaked seeds
contains all essential nutrients, including excellent sources of digestible calcium.
€15,50 Incl. tax
€12,81 Excl. tax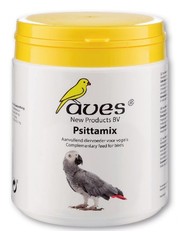 Aves Psittamix (600g)
Psittamix. Nine species of live micro-organisms to restore or maintain the bacterial flora in the intestine. Important for the overall condition and well being, immune system and general health of the bird.
€15,95 Incl. tax
€13,18 Excl. tax