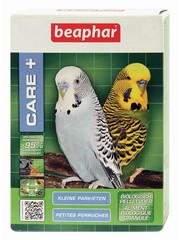 Beaphar Care+ Small Parakeet
Care + small parakeets is a complete, super premium food. This biological Pellet food, rich in vitamins and minerals, is ideal for budgies, lemon parakeets and neophemas of.
€4,10 Incl. tax
€3,39 Excl. tax
Beaphar XtraVital Parakeet Food
An outstanding premium food for large parakeets, lovebirds, cockatiels and such like, based on a selection of up to 30 different seeds and fruits, echinacea, eggfood to provide essential amino acids, plus supplementary vitamins and minerals.
€4,69 Incl. tax
€3,88 Excl. tax