Witte Molen
Within the Laroy Group, the specialist food producer Witte Molen can now offer its customers a wide range of food and accessories for dogs, cats, small mammals, birds, pigeons, fish and reptiles. With a higher level of service in addition.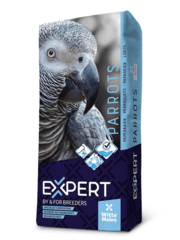 Witte Molen Expert Base Parrots (15 kg)
The Parrot Basic of Witte Molen is a mixed feed for parrots. This complete food contains high quality ingredients and offers the bird a lot of variation.
€28,05 Incl. tax
€23,18 Excl. tax