Avian
Avian was founded to develop and provide scientific nutritional supplements that are proven to promote health. In recent years, they have mainly distinguished themselves in Nectars for nectar-eating birds. But also our vitamins, minerals, amino acid blends are widely used to support the health of our birds, not to mention the eggfood.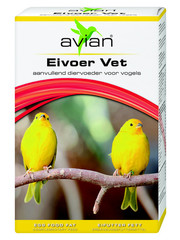 Avian Eggfood Yellow with Honey
Working with nutritionists and researchers Avian has produced an eggfood product that will provide the needed vitamins and minerals for your birds to excel. It is a broadly based soft eggfood, blended with the finest quality ingredients.
€6,60 Incl. tax
€5,45 Excl. tax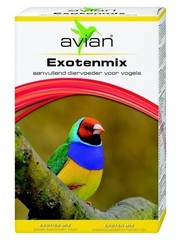 Avian Exotics mix
Exotics Mix is ​​an important protein feed strength and conditioning, especially for the types of tropical and exotic species such as the astrilden, amadines, finch, blauwfazantjes and gold bellies.
€8,80 Incl. tax
€7,27 Excl. tax