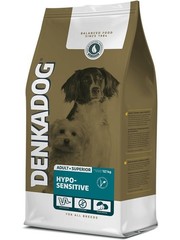 Denkadog Hypo-Sensitieve
Specially developed for dogs with sensitive digestion. Such as a messy stomach, abdominal noises, diarrhoea, vomiting and flatulence. This food contains no animal proteins and fats so that most stomach and intestinal problems are solved quickly.
€69,50 Incl. tax
€57,44 Excl. tax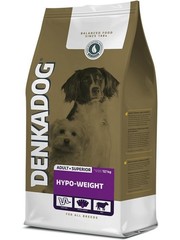 Denkadog Hypo-Weight
Research has shown that more than 50% of the dogs are too heavy. This diet is formulated in such a way that your dog can eat a normal amount, is not hungry and still retains or reaches the correct weight.
€65,50 Incl. tax
€54,13 Excl. tax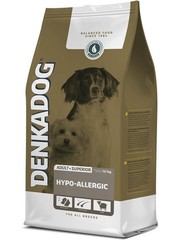 Denkadog Hypo-Allergic
Food allergy is becoming more common in dogs. This food only has lamb as a source of protein. This effectively combats food allergy. The power supply can be used as an elimination diet.
€69,95 Incl. tax
€57,81 Excl. tax