Aves
Through years of intensive contact with bird breeders, zoos and scientific institutions, Avesproduct is able to provide versatile, practical and objective information. Thanks to good service and professional guidance, Aves products have been used with great success since 1976.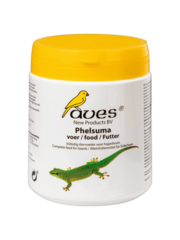 Aves Phelsumafood (450g)
Aves Phelsumafood is a complete compositioned food for lizards. Phelsumas or daygeckos are fed Aves Phelsuma food as main foodsource.
€11,95 Incl. tax
€9,88 Excl. tax