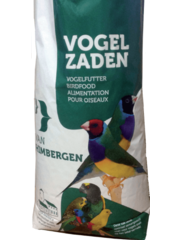 Himbergen 206 - mixture for Neophemas (25kg)
Basic Mix for smaller species (neophemas) under the large parakeets like Bourks, Tuquoisine, Blue-winged, many colors, Splendid, elegant, Swift Parrot etc.
€33,85 Incl. tax
€27,98 Excl. tax
Teurlings 229 - Agapornide and Neophema mixture (2,5 kg)
Teurlings quality feed for birds contains seeds and cereals from the bird's natural habitat. Only high-quality ingredients are used. Teurlings bird seeds enjoy high acceptance among birds, so less feed is wasted, making feeding cheaper.
€3,95 Incl. tax
€3,26 Excl. tax