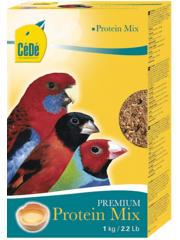 Cede Protein mix (1 kg)
CeDe Protein Mix is ​​a supplementary food for birds. The processing of whole eggs makes CeDe unique! Egg protein is an easily absorbable birds and the best absorbable source of animal protein. CeDe Protein Mix is ​​very rich in protein (22%).
€5,90 Incl. tax
€4,88 Excl. tax
Niger seed (1kg)
This tiny black seed is oil-rich, very nutritious, and loved by goldfinches, green finches, siskins and redpoll. Once these birds discover that you're offering niger seed, they'll be back again and again for more. Niger or Nyger seed (sometimes calle...
€2,50 Incl. tax
€2,29 Excl. tax