Orlux Breeding food pheasants and quail (1 kg)
Orlux pâtée d'élevage pour faisans & cailles est un aliment d'élevage, de haute qualité, pour les poussins de volaille tels que les faisans, les cailles et les perdrix. Les poussins sont très attirés par le pourcentage important d'insectes séchés....
€4,75 Incl. tax
€3,93 Excl. tax
Orlux Breeding food Bianco
Orlux Breeding food Bianco has been specially developed for the breeding of white and light colored canaries: mosaic, satinette... The extra added lysine and methionine guarantee an optimal growth and feather composition.
€4,50 Incl. tax
€3,72 Excl. tax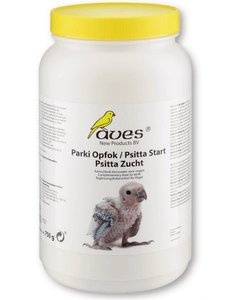 Aves Psitta Start
Upgrading of the seed mixture to a complete psittacine rearing diet
soaked seeds in PSITTA-START are better and easier to digest than hard unsoaked seeds
contains all essential nutrients, including excellent sources of digestible calcium.
€15,50 Incl. tax
€12,81 Excl. tax