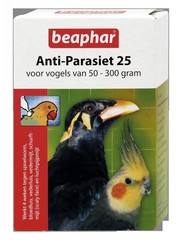 Beaphar Anti-Parasite Spot-On for Medium Sized Birds
A convenient treatment for medium-sized birds such as parakeets and Mynah birds. This approved veterinary preparation contains ivermectin and comes in convenient pre-diluted pipettes for ease of use.
€4,89 Incl. tax
€4,49 Excl. tax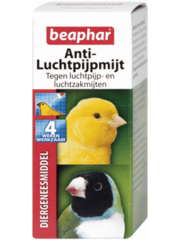 Beaphar Anti-Trachea mite (10ml)
Drug to combat animal trachea and air sac mites in canaries, finches and other aviary birds.
Also effective against scab in parakeets (scaly face).
This drug can also perfectly be used against scaly legs on birds and chickens (mixed with some petro...
€8,95 Incl. tax
€8,21 Excl. tax