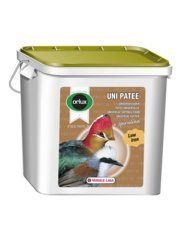 Orlux Uni patee premium (5 kg)
Orlux Uni patee Premium is a complete diet for fruit-eating birds. Furthermore, it is an ideal food for large parakeets, parrots, fig parrots and lories.
€24,35 Incl. tax
€20,12 Excl. tax
Orlux Uni patee
Orlux Uni patee is an additional food for tropical and native birds. It is also a complete diet for small fruit- and insect-eating birds. This patee is moistened with 100 % pure and natural honey for a better assimilation and a high nutritional value...
€4,99 Incl. tax
€4,12 Excl. tax