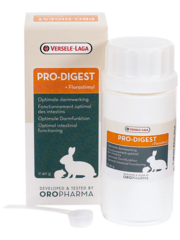 Oropharma Pro-Digest
Oropharma Pro-Digest is a water-soluble intestinal conditioner. In case of a change of nutrition or reduced resistance, your pet can have problems with digestion. The unique composition of Pro-Digest helps to restore the balance in the stomach and intesti
€7,99 Incl. tax
€6,60 Excl. tax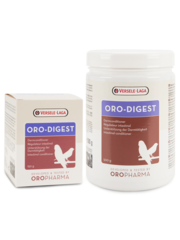 Oropharma Oro-Digest
Oropharma Oro-Digest is an intestinal conditioner. This product prevents the adhesion of pathogenic bacteria in the intestines, ensures a better consistency of the droppings, promotes hygienic nests and prevents the cloaca feathers from sticking together.
€9,99 Incl. tax
€8,26 Excl. tax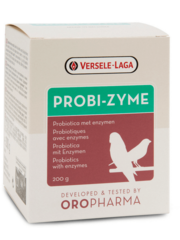 Oropharma Probi-Zyme (200g)
Oropharma Probi-Zyme is a combination of probiotics and digestive enzymes. This dietary supplement promotes the crop and intestinal flora, increases good intestinal flora.
€16,95 Incl. tax
€14,01 Excl. tax